Big Junkyard® is here to help the environment and community. We carry a large computerized inventory of low-cost recycled dealer brand auto parts for cars, light trucks, vans and more ranging from late 1960's – current.
"An environmentally healthy alternative to new parts."

EcoFriendly Parts™ by Big Junkyard® are an environmentally healthy alternative to new auto parts because they are recycled instead of manufactured.
"We work directly with your local mechanic, saving you the hassle that comes with part cross-fitment and interchange."

Most importantly, we are a licensed supplier of auto parts available to every person and auto repair center in the nation.
"You can make a difference when it comes to helping the environment."

Buy direct or request EcoFriendly Parts™ by Big Junkyard® with your local mechanic for your next car repair.
Licenses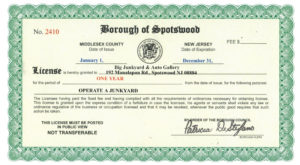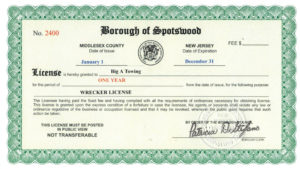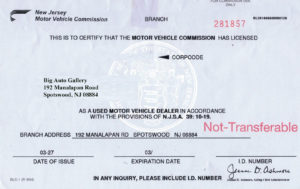 Parts Fitment Technology;
State of the art electronics help us find part compatibility through multiple year ranges and models. Simply provide us with the year make and model of your vehicle or the VIN number and we will ensure an exact fit guaranteed.
Common Industry Terms;
Wrecking Yard "A Business where wrecked or decommissioned vehicles are brought, their usable parts are sold for use in operating vehicles, while the unusable metal parts, known as scrap metal parts, are sold to metal-recycling companies." – Wikipedia.  See also wrecker's yard, salvage yard, breakers yard, dismantler.
Our Business & Services consist of;
Professional Advice/Opinion Available
Full Service Discount Tire & Battery Sub-Shop
Private Auto Mechanical Restoration
Free Commercial Parts Delivery within twenty miles
Shops, Dealers and Traders: Repairable Auto's For Sale
24 Hour Police Towing
Big Junkyard®
192 Manalapan Road
Spotswood, NJ 08884